Kerala State Chalachithre Academy has released the list of films except for competition films from Asia , Africa, and Latin America for the ensuing 24th edition of the

International Film Festival of Kerala (24th IFFK 2019)

be held from 6th to 12th December 2019 in Thiruvananthapuram organized by the Kerala State Chalachitra Academy.
'Aani Maani' (Hindi) directed by Fahim lrshad and
'Lihaafi The Quilt' (Hindi) by Rahat Kazami from Indian Cinema
and 'Vrithakrithyilulla Chathuram' directed by Krishand R K and
'Jellikkettu' directed by Lijo Jose Pellissery from Malayalam Cinema
Seven fil
ms have been chosen to the Indian Cinema Now section:
1. Anandi Gopal (Dir: Sameer Vidwans , Language:Marathi)
2. Axone Nicholas (Dir:Kharkongor , Language:Hindi, English)
3. Mai Ghat: Crime No 103/2005 (Dir:Ananth Mahadevan , Language:Marathi)
4. Hellaro (Dir:Abhishek Shah , Language:Gujarati),which has also been selected as the opening film of Indian Panorama section of 50th IFFI 2019
5. Market / lewduh (Dir:Pradip Kurbah , Language:Khasi)
6. The Funeral / Ram Prasad Ki Tehrvi (Dir:Seema Pahwa, Language: Hindi)
7. Without Strings / Binisutoy (Dir:Atanu Ghosh, Language: Bengali)
Twelve films have been chosen to the 'Malayalam Cinema Today' section.
And of the 14 Malayalam films, 6 are by debut directors.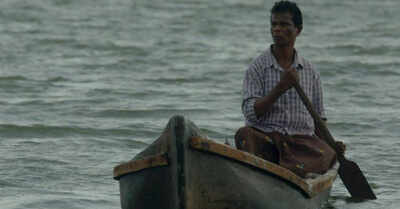 1. Pani (Dir: Santhosh Mandoor)
2. Ishq-Not a Love Story (Dir: Anuraj Manohar)
3. Kumbalangi Nights (Dir: Madhu C Narayanan)
4. Silencer (Dir: Priyanandanan T R)
5. Veyilmarangal (Dir: Dr Biju)
6. Virus (Dir: Aashiq Abu)
7. Raudram (Dir: Jayaraj R)
8. Oru Njayarazcha (Dir: Shyamaprasad)
9. And The Oskar Goes To (Dir: Salim Ahmed)
10. Uyare (Dir: Manu Ashokan)
11. Kenjira (Dir: Manoj Kana