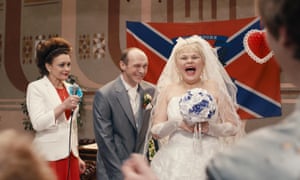 Sergei Loznitsa's g
hastly new
social-realist portmanteau film about the civil war in eastern Ukraine.
"In the eastern region of Donbass, a hybrid war blends open armed conflict, crimes and looting perpetrated by separatist gangs. In Donbas, war is called peace, propaganda is erected in truth and hate claims to be love. A journey through the Donbass is a series of crazy adventures in which the grotesque and the tragic mingle like life and death. This is not a tale about a region, a country or a political system but about a world lost in the after-truth and false identities. This concerns each of us."
"Another cri de coeur by Sergei Lonznitsa, set in the eastern region of Ukraine, reveals the degradation of civil society in the post-truth era "- Variety
This film won the best director prize in Un Certain Regards -Cannes Film Festival and Suvarna Mayooram-t

he golden peacock award for the best film-

in recently concluded 49th IFFI 2018.
.